Books I've recently read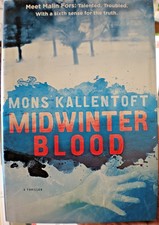 Midwinter Blood, by Mons Kallentoft – this one was a slog for me. I love murder mysteries and detective novels. This was definitely not one of my favorites. I'll try another Swedish novel or two, by a different author, before I give up on Nordic Noir. I do have Wallender on my list of Stuff To Read Someday. This book was just unsatisfying for me.
Harriet Gets Carried Away, by Jesse Sima – We found this in the gift shop at the end of our trip to see Zoolights. I'm totally loving it! I also discovered this is the same author who did Not Quite Narwhal, a household favorite!
Year of the Jungle, by Suzanne Collins – This is a recently published book about the author's life in 1968, when she was a little girl and her father was deployed to Vietnam. It's very much a young children's book, and is beautifully done. And for a family in a similar situation, it would be easy enough to substitute the name of the appropriate country, substitute a few other key words and some photos. For some other resources for supporting children and their family's participation in it, you might check out the Sesame Street/USO project for Military Families, Operation We Are Here, and Everyone Serves.
Would You Rather Be a Princess or a Dragon?, by Barney Saltzberg – This is a rather silly question. Who wouldn't want to be both? While this book could have been a little more solid on this point, it does get there eventually. Very cute illustrations, good back and forth on how Princesses *can* be different from Dragons (though I've seen far more overlap!). Fortunately, this decision doesn't stop when you grow up – I'm currently living my best Princess/Dragon life!